Full-Service Dog Grooming
A Dog's Dream is a full service grooming facility. We are here to pamper your pet any way we can. From a simple bath and brush to sheepdog trim or dog show groom our expert groomers can handle it all. Don't see a package below that fits your needs? We offer all our services al a carte. All prices are based on breed and will vary. All baths and grooming must be scheduled. Call (252) 514-2502 with any questions.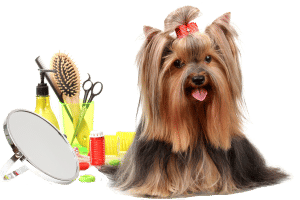 GROOMING HOURS
Drop-Off Time
Monday-Friday: 7am-9am
Saturday and Sunday: 8am-9am
Pick-Up Time
Monday-Friday: 4pm-6pm
Saturday and Sunday: 4pm-6pm
Regular grooming is proven to:

Reduce medical attention for ear infections and sores
Early detection of medical issues
Reduce loose hair in your home
Increase pet self-esteem
Better socialization
Prevent skin issues
Positive behavior
A la Carte
** Please call for pricing
Scissors & Clipper Work
Furminator - Deshedding Treatment
Anal Gland Expression
Sanitary Area Trimming
Nail Trimming
We care enough not to share! The safety and care of your pets is always our first priority. Our policies and requirements set us apart from the pack. At A Dog's Dream, we feel it is necessary to go above and beyond the standards of care. As such, we set the bar for high standards. We do require that your dog be spayed/neutered and be current on all vaccinations to include Bordetella, Distemper, and Rabies. You must show proof of vaccinations.
Hours may vary on major holidays, click here for details.