Your Dog's Home Away From Home
Here at A Dog's Dream, we offer the tons of amenities for your K-9. Whether they are here for one night or ten nights you can be sure that your furry friend is safe and loved. We proudly serve high-quality dog food to all our dreamers, however, we strongly recommend that you bring your dog's preferred food in a sealed container marked with their daily feeding instructions. You are also encouraged to bring a toy, blanket, or comfort item to make your dog feel more at home during his or her stay.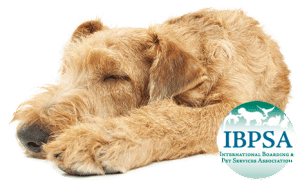 All of our boarding packages include:
24 hour Monitoring, 365 Days a Year
Private Dream Kennels
Raised Cozy Cots & Fleece Blankets
Huge Indoor and Outdoor Play Areas
Courteous, Expertly Trained Staff
We offer a variety of options to spoil your pet while they stay with us including: day play, pool time, kennel bath, nail trimming, snack kong, frosty paw ice cream, extra walks, brush-outs, 1 on 1 time with staff, and much more!
We also offer discounts for dogs staying in the same kennel and military discounts on standard boarding.
*All boarders get potty breaks, bed, and bowls.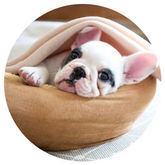 Overnight Boarding
Overnight, dogs sleep in individual, comfortable runs in which they have quiet, personal space after a full day of play.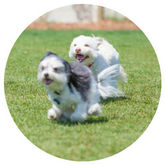 Dog Daycare
Your pet will have the freedom to frolic in a spacious indoor and outdoor play area. Separate play areas for large dogs, small dogs, and senior dogs. 
Come visit A Dog's Dream in New Bern, NC for dog boarding or daycare, dog training, dog grooming, and more.