Puppy Play Dates
Whether your pup needs a watchful eye while you run errands or a place to blow off some steam while you're at work, you can be sure that your furry friend is safe, active, and loved. The benefit of interaction with other dogs is a great self-esteem booster for dogs, and the social interaction keeps your pup well-rounded.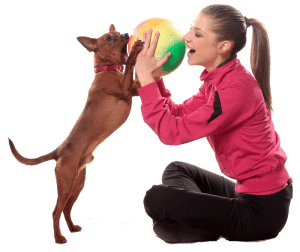 At A Dog's Dream, we proudly offer:
Expertly trained staff on hand to engage with your pet as well as ensure everyone is safe and happy
High-Speed Doggy Web Cams so you can check in on your pet
6750 square feet of indoor play space
Indoor air-conditioned play areas
Pup to Pup interaction
Outdoor play yards
Puppy pools
Toys
Dog Daycare is essential in helping your dog develop good social skills with other dogs by having controlled playtime. At A Dog's Dream, our team is dedicated to helping your dog be the best dog possible!
We do a social evaluation (temperament test) on all new dogs that use our daycare and boarding services. This helps us determine the personality of your dog. Playgroups are then carefully organized according to the size and temperament of each dog.
Individual Daycare: We also offer Daycare for those that are not social with others. We understand that not all dogs are social, and we will work with your dog on an individual basis. While they may not be social, we do require that they not be overly aggressive towards other dogs.
Daycare Packages
These packages cannot be combined with any other offers. No coupons or discounts may be used to purchase packages and rewards cards cannot be used when using your package visits. All packages expire 60 days after the date of purchase.
We care enough not to share! The safety and care of your pets is always our first priority. Our policies and requirements set us apart from the pack. At A Dog's Dream, we feel it is necessary to go above and beyond the standards of care. As such, we set the bar for high standards. We do require that your dog be spayed/neutered and be current on all vaccinations including Bordetella, Distemper, and Rabies. You must show proof of vaccinations. We require all dogs to pass a social evaluation prior to using our services.

Hours may vary on major holidays, click here for details.