A Well Trained Dog is a Happy Dog
We offer a wide range of professional dog training services including:
Puppy Training
Private, In-Home Training
Behavior Modification Training
Therapy Dog Training
Emotional Support Training
AKC Canine Good Citizen
And fun group classes in your community!
If you don't see what you're looking for on this list, Call (252) 514-2502 for more details on our dog training services.
All of our dog training is in cooperation with Sally Said So and their team of trainers.
We care enough not to share! The safety and care of your pets is always our first priority. Our policies and requirements set us apart from the pack. At A Dog's Dream, we feel it is necessary to go above and beyond the standards of care. As such, we set the bar for high standards. We do require that your dog be spayed/neutered and be current on all vaccinations to include Bordetella, Distemper, and Rabies. You must show proof of vaccinations.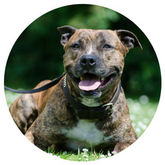 Aggression Training
We educate to fix aggression and other hazardous behaviors such as area aggression, are afraid aggression, food protecting and begging, grumbling, weeping, as well as submissing peeing. We make sure your canine is in a safe environment to make them really feel comfy while discovering their brand-new abilities.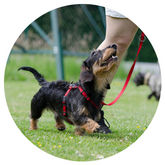 Beginner Training
Beginner training for pet dogs is important. Dogs aim to please, so with these beginner approaches and also strategies, they will give your pet's opportunities to make you delighted. Our programs begin with the traditional sit, stay and come. But as your pet breakthroughs, we offer a lot more challenging requests that are supplied in our various other training courses! These are made to keep your pet dog engaged and also on their toes.


Behavior Modification
Here at A Dog's Dream, we focus on pet dog behavior modification. Pet behavior modification is where we transform existing dog habits. This includes however is not limited to training in or changing leash decorum, eating, pet dog resource safeguarding, barking, separation anxiety, leash lunging, chain aggressiveness, dog-on-dog hostility, and also pet dog to human aggressiveness.


House Breaking & Potty Training
House training your puppy has to do with consistency, patience, as well as favorable support. The goal is to instill excellent habits as well as construct a loving bond with your animal.
Experts recommend that you start home training your pup when they are between 12 weeks and 16 weeks old. Then, they have enough control of their bladder as well as bowel movements to discover to hold it. With A Dog's Dream's expertise, we give you the devices and techniques to best residence train your brand-new furever friend.

Puppy Training
Enlisting in pup courses prior to three months old can be an superb ways of improving training, strengthening the human-animal bond, and also interacting socially pups in an atmosphere where risk of ailment can be minimized. In general, pups can start puppy socialization courses as very early as 7-8 weeks old. Young puppy socialization classes supply a secure as well as organized means of mingling pups and also more quickly enhance their responsiveness to requests. Early and adequate pup socialization and also programs of positive pet training can go a long way to stop actions problems and also boosting bonding between people and also pets. While the very first 3 months is the most essential pup socialization period in a pup's life, proprietors of pups that have passed this landmark are strongly motivated to remain to mingle their puppies to as lots of people, animals, as well as locations as useful.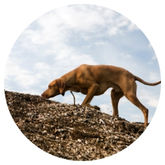 K9 Nose Work Training
K9 Nosework is an task that enables your canine to use their all-natural desire to hunt. It uses a pet dog's unique capability to detect the scent and determine the source. In training, dogs learn to discover one of three scents almost anywhere you can conceal it. Throughout the training, the pets begin to associate that smell pays. And practice makes perfect. After many rounds of these really fun video games, you'll ultimately pass boxes or containers as well as reach more difficult barriers.

Come visit A Dog's Dream in New Bern, NC for dog boarding or daycare, dog training, dog grooming, and more.